DEBT COLLECTION NEWSLETTERS:
When you sign-up for Atlas Financial Services Newsletters, you can expect two emails a month, either notifying you of significant changes that impact current clients or updates on software features that may include tutorial videos. 
Thank you for becoming a partner in accounts receivables. We are excited to work for you! 

Atlas Financial Services – Small Business Collection Agency: 
When Debtors don't pay their bills, it can become an issue for your business—some of these debtors may be long-term clients where you have established a long-term relationship. 
If you don't strategize to collect on these debts, you can expect not to get paid. When your accounts receivable team has exhausted their efforts on collecting, outsourcing collection services is necessary. 
How past-due accounts can affect your business:
Unfavorable monthly cash flow for your small business. 

Possible issues to continue business operations. 

Unable to pay your employee's salaries. 

Creates bad office morale, creating frustration with staff unable to collect payments. 
Early warning signs you need collection services:
The debtor that used to answer all the time no longer picks up their phone. 

The debtor says, "I will pay you as soon as I can; I just need a few weeks."

After a few weeks, the debtor comes up with another excuse for why they cannot pay. 
What should I do when this occurs? 
Keep calm and stay professional. 

Suppose you have a relationship with this client. Be honest about what happens when they choose not to pay after a scheduled payment. "Look, I don't want to send you to collections, but if you fail to make this full payment during our scheduled date, we will have no other choice but to send you to collections." or "If you fail to make any payments throughout this payment plan, we will have no choice to send you to collections."  

If you don't have a relationship, send out scheduled notices about their debt and an expected date for them to pay the amount in full or create a partial payment plan. Let them know that failing to do so will result in their account being sent to collections.

If the debtor has not made a payment in 4 – 8 weeks after receiving phone calls and notices from you, there is absolutely no reason not to send them collections.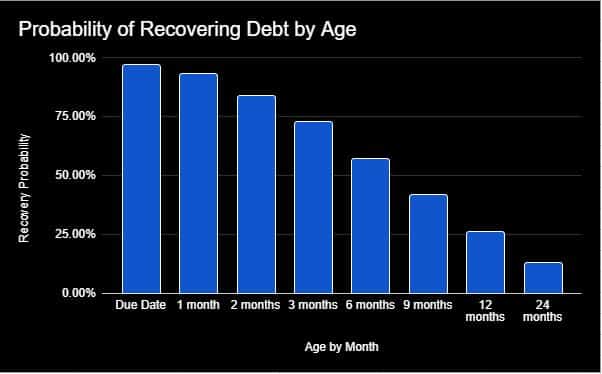 Steps to make sure you can hire a collection agency:
Make sure you get signatures before you work! If you are a business that doesn't have a contract or an agreement in place for your services, you need to make one. Without getting formal agreements or contracts signed, there is nothing stopping someone from saying, "That isn't what we agreed on!" and not paying you. 

Assuming you have an agreement signed, keep all records of communication, including emails and invoices. When placing accounts, provide as much information as you can. If you already know that the person is unwilling to pay, let us know to speed up the process and take legal action. 

Ensure you get all your customer's information, such as email, phone numbers, addresses, etc. Without an address, we cannot send a notice letting them know they are in collections, which means we will not be able to collect on the account.