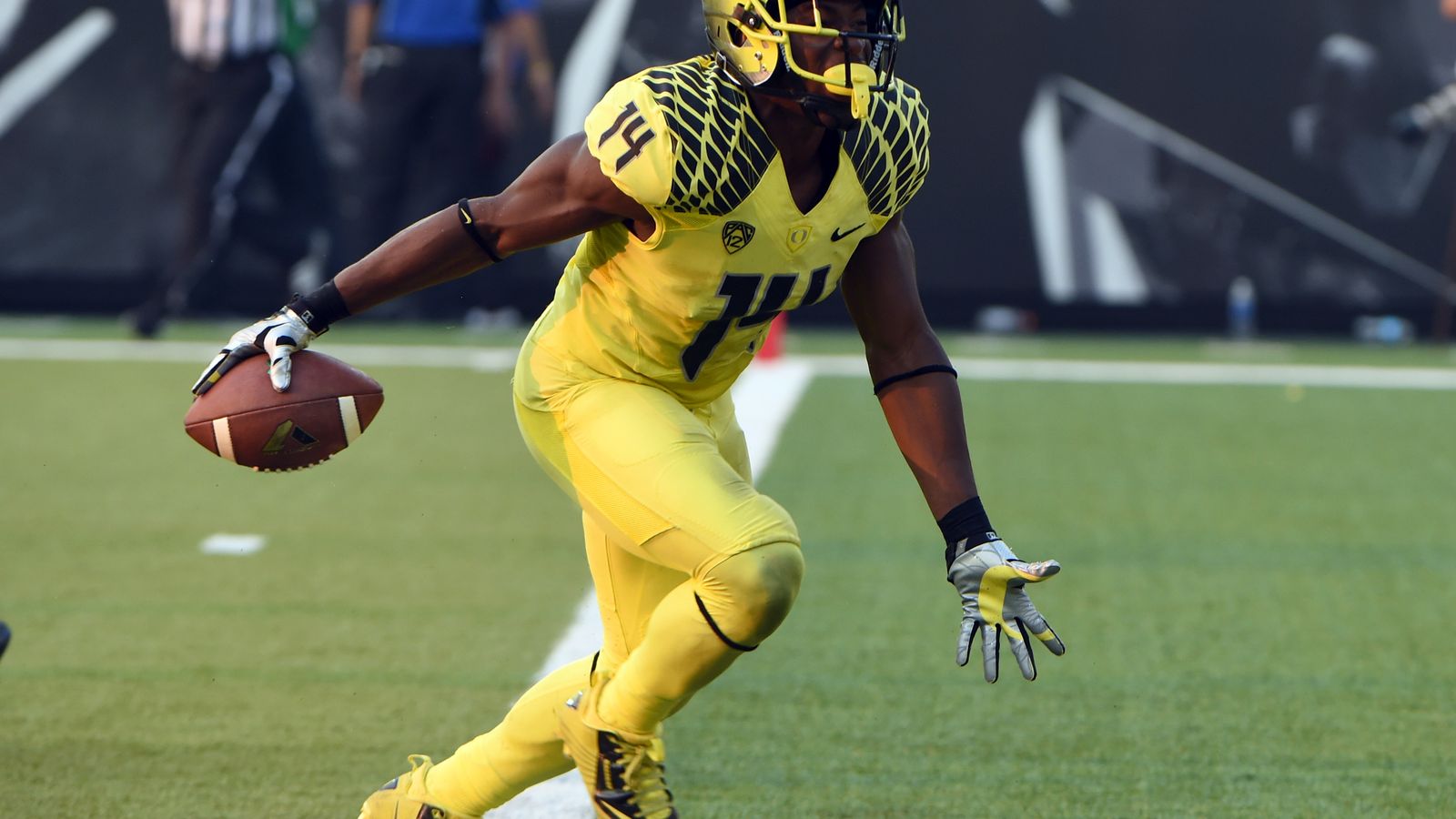 After a sterling junior year in which he was selected as an AP All-American, Oregon Ducks star cornerback Ifo Ekre-Olomu debated whether or not he should go pro.
It was 2013 and the Ducks had just beaten Texas in the Alamo Bowl. And while an Alamo Bowl victory over a perennial power school like Texas is nothing to sniff at, the ending of the season felt a bit disappointing after the Ducks were at one point ranked #2 in the country.
Ifo had to weigh whether or not he wanted to declare for the NFL (where he was projected as a first round pick) or whether he wanted one more crack at the BCS Championship with the Ducks. Ifo is the son of Nigerian immigrants, and he had to consider the immediate money from the NFL as well as the risk he would be taking for his senior season.
He chose to return to the University of Oregon claiming, "I felt staying one more year would only help me." Sco Ducks.
The risk he took on was substantial though. If an injury or subpar season caused him to fall in the draft, it would cost him millions of dollars. Marcus Mariota, Ifo's Oregon teammate who was drafted #2, signed a rookie contract worth $21,395,498. As you get farther away from the top, contracts drop exponentially in worth. Seventh round picks are often paid a tenth of that.
Athlete Insurance Policies
Ifo and his family, along with some help from the University of Oregon Athletic Department, purchased an athlete insurance policy. How much they paid for the policy was never released, but it's estimated to have been significant because the policy's payout would be $3 million if an injury caused his draft stock to dramatically fall.
Ifo certainly isn't the first athlete- college or otherwise- to have his body insured. In 2006, David Beckham insured his legs for $78 million dollars. Cristiano Ronaldo one-upped him by insuring his entire lower body for $153 million ($100 million of which presumably went to those gorgeous glutes, am I right?) Professional sports are a multi-billion dollar industry, so it makes sense for those participating in it (or wanting to participate in it) to insure themselves against an injury that would cost them their ability to cash in on those profits.
Two years before Ifo, Louisville quarterback Teddy Bridgewater took out a $10 million policy on his body with an estimated $80 thousand premium, but that policy only paid out if Bridgewater suffered a career-ending injury. And in the modern world of sports medicine, it's not only rare to experience a true career-ending injury, but it's very easy for the insurance provider to contest whether it truly qualified as "career-ending." This is why a hefty insurance policy may not actually be the best safeguard against injury for athletes.
Ifo pursued a slightly different policy than Teddy Bridgewater, one only offered by Lloyd's of London, a provider out of England specializing in specialty insurance claims around the world. It's classified as loss-of-value of insurance which costs about $80,000 per million dollars of coverage. These policies are relatively new.
One of the first troubles when determining how an athlete's policy should is how do you possibly tell what their draft potential is worth? Lloyd's uses a third-party system to determine what round and what pick range a player is reasonably expected to go in the NFL draft. They compile several draft projection services into an algorithm to decide policy numbers, but they are very secretive about what services they use and how they weigh different factors.
Payouts
In December 2014, Ifo was practicing and preparing for the Ducks' Rose Bowl game against Florida State. His decision to return to college for his senior year seemed to be the right one. Not only was his team two games away from winning it all, but his draft stock had risen (from the mid-20s in the first round to 12 and higher).
But then while running a drill, Ifo hit a cut, felt a pop in his knee, and went down. The unthinkable had happened. Ifo Ekpre-Olomu tore his ACL and dislocated his knee. He would sit out both the BCS playoff games and the entirety of the 2015 season.
Instead of going in the top ten in that year's NFL draft, he went in the seventh round at 241st, just 15 picks away from not being drafted.
So he immediately got his 3 million right?
Complications
USC star receiver Marqise Lee filed a similar loss-of-value policy with Lloyd's in 2013 for a claim of $4.5 million. He was one of the first college players ever to file this form of policy. It guaranteed him the difference between his rookie NFL contract and $9.6 million baseline.
A month later though, Lee sprained his MCL and was forced to miss three games and play injured in the rest. Instead of potentially being the #1 overall pick, he fell to 39th in the 2014 draft. He immediately filed for his insurance payout.
After nine months of deliberating, Lloyd's of London refused to pay Marqise Lee the money because they said he concealed and misrepresented a previous knee injury. Instead of paying Lee the $4.6 million, they offered to reimburse his premium payments- a total of about $96,000 which he loaned against his future earnings. He immediately sued them and the lawsuit and is ongoing.
Lee isn't the only athlete that Lloyd has tried this tactic with. His USC teammate is suing Lloyd's for one million for the exact same reason.
Which makes it all that much more incredible that Ifo was actually paid his $3 million.The system works. It takes a while, and Lloyd's deliberated for about a year, but they ultimately gave the Ducks cornerback his full payout.
Ifo Ekpre-Olomu is now the first and only player to ever collect the full amount of a loss-of-value draft stock insurance policy.
Conclusions
Despite being only about a decade old, athletic insurance policies are becoming more and more prominent. Since college football players are not allowed to enter the NFL until after their junior year, several sure-fire prospects have to endure a year or two's worth of injury risk. Regardless of surrounding controversy, more and more of these claims will pop up for just this reason.